Breadwinners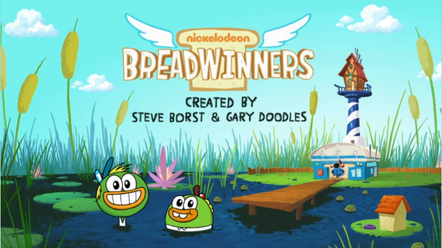 Breadwinners is a animated comedy series on the kids' channel Nickelodeon. Two anthropomorphic ducks, best friends SwaySway (Robbie Daymond) and Buhdeuce (Eric Bauza), fly around the water-based planet Pondgea in a rocket-powered van delivering bread to their customers. SwaySway, tall, thin and neon green, is the leader of the duo, and although he does not always use the best judgment, he is quite skilled at flying the van. Buhdeuce, short and round, is klutzier, but is also an enthusiastic and a loyal assistant to SwaySway. Oftentimes when they get in over their heads, they will "level up", or transform (in a similar vein to video game characters) into a variety of forms they need to solve their problems.
General Information

Title:
Breadwinners
Original Network:
Nickelodeon
Original Run:
February 17, 2014 - present
Episode Length:
11 minutes
Description:
"Do you like riDUCKulous adventures? SwaySway and Buhdeuce are a couple of super cool Breadwinners with a love for all loaves! These two quazy ducks fly a rocket van from the west to the yeast of Pondgea, making sure everyone gets some bread up in their beak. Yip-yip!

Even though they're always working, these ducks make sure to have 24/7 fun. They have to watch their tails, though... there are monsters with three butt-cheeks around EVERY corner.

Most importantly, these ducks deliver all the loaves with no leftovers! Just remember: no matter the challenge, no matter what, they always deliver and never give up! Hold on to your tail feathers and get ready for some QUAZY adventures."

Main Characters:
SwaySway, Buhdeuce, Jelly, Bread Maker, Rambamboo, T-Midi, Oonski the Great, and Mr. Pumpers
Similar Series:
SpongeBob SquarePants,
Sanjay and Craig
Availability:
The Nickelodeon channel,
nickelodeon.com,
iTunes

Content Information

Rating:
TV-G
See entry on Common Sense Media
Content Labels:
Comedy
Violence:
Mild
Language:
No
Sexual Themes and Nudity:
Mild
Drugs and Alcohol:
No
Crude Humor or Comic Mischief:
Mild (Butts are a recurring theme in the series.)
Ad blocker interference detected!
Wikia is a free-to-use site that makes money from advertising. We have a modified experience for viewers using ad blockers

Wikia is not accessible if you've made further modifications. Remove the custom ad blocker rule(s) and the page will load as expected.