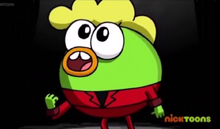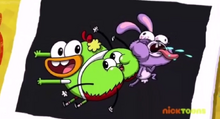 Bye Bye Booty is a song sung by Buhdeuce and a little bit by Kenneth (Buhdeuce's butt) in the episode "Bye Bye Booty".
Lyrics
Buhdeuce: It's over now, I'm not who I used to be
There's a hole in my heart, and it's shaped like a booty (booty)
We had it all, but I never knew
Sometimes you can't see what is right behind you...
Now I'm just a buttless duck, who did not loaf his butt enough!
(Bye bye Booty)
Ohh, I miss your sweet rub
(Bye bye Booty)
I miss all the junk and your trunk
(Bye bye Booty)
I miss those big brown eyes
(Bye bye Booty)
Well, I guess... this is goodbyeee.

(Hello Booty)
I'll never take you for granted again!
(Hello Booty)
Kenneth: And I'm yours forever, I'm your rear end!
(Hello Booty)
Buhdeuce: Hey, Butt! Look who I just found!
(Hello Bunny)
Kenneth: So, let's go do this thing right now!
Together: BOOTY KICK!
Ad blocker interference detected!
Wikia is a free-to-use site that makes money from advertising. We have a modified experience for viewers using ad blockers

Wikia is not accessible if you've made further modifications. Remove the custom ad blocker rule(s) and the page will load as expected.