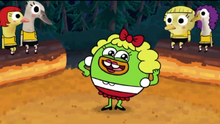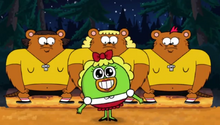 "Campfire Song" is a song sung by Buhdeuce in the episode "Love Loaf". It is about his love for himself after he ate part of the love loaf and fell in love with himself.
Lyrics
What this campfire needs is a song!
Sung in the key of me!
Pretty pretty! I'm so pretty!
Look at me! So so pretty!
Pretty pretty! I'm so pretty!
Even my farts are so so pretty!
(farts in the faces of the camp counselors)
Notes
This song is the reason why SwaySway and Buhdeuce's disguises as girls were blown.
This song is also known as "Pretty pretty".
The song could be a reference to I Feel Pretty from west side story.
Ad blocker interference detected!
Wikia is a free-to-use site that makes money from advertising. We have a modified experience for viewers using ad blockers

Wikia is not accessible if you've made further modifications. Remove the custom ad blocker rule(s) and the page will load as expected.