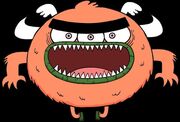 The Cloud Monster is a big flying monster who roams the clouds of Pondgea.
Appearance
The Cloud Monster is very hairy with beige colored fur and green chapped lips. With large, pointy horns, tiny wings and 3 huge eyes.
Sightings
Trivia
Ad blocker interference detected!
Wikia is a free-to-use site that makes money from advertising. We have a modified experience for viewers using ad blockers

Wikia is not accessible if you've made further modifications. Remove the custom ad blocker rule(s) and the page will load as expected.