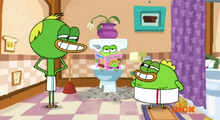 Getting Bready for the Day is a song sung by SwaySway and Buhdeuce in the episode "Chest Hair Club".
Lyrics
SwaySway: Yo, Buhdeuce~ Are you bready for another day of being best baps for life, forever, for all eternityyy??
Buhdeuce: YEAH BOYYYY!
SwaySway: Then let me get a party punch!
Together: P-P-P-P-PARTY PUNCH!
SwaySway: Getting bready for the day!
Buhdeuce: For the day!
Together: For the day!
SwaySway: I got my best bap,
Buhdeuce: And I got mine, his name's Swaaay~
Together: -Giggling-
SwaySway: Aww..
Ad blocker interference detected!
Wikia is a free-to-use site that makes money from advertising. We have a modified experience for viewers using ad blockers

Wikia is not accessible if you've made further modifications. Remove the custom ad blocker rule(s) and the page will load as expected.