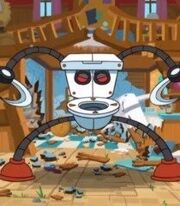 The Robo Toilet 30000 
is one of
Ketta
's inventions gone wrong and a minor antagonist in
Breadwinners
. He only appeared in "
Kettastrophe
".
Biography
The Robo Toilet Thirty-Thousand was created when Ketta made unwanted modifications to SwaySway and Buhdeuce's bathroom. Later, It went crazy and attacked the Breadwinners.
Fate
Before it could kill SwaySway and Buhdeuce, Ketta appeared and used her pet training helmet to teach Buttermilk to fight him.
Sightings
113b "Kettastrophe"
Trivia
Ad blocker interference detected!
Wikia is a free-to-use site that makes money from advertising. We have a modified experience for viewers using ad blockers

Wikia is not accessible if you've made further modifications. Remove the custom ad blocker rule(s) and the page will load as expected.