The Swamp Pad is where the Breadwinners live, and their address is 47 Swamp Pad Lane. Jelly lives in her Frog House, but mostly lives in the Breadwinners' house, to meet SwaySway and Buhdeuce.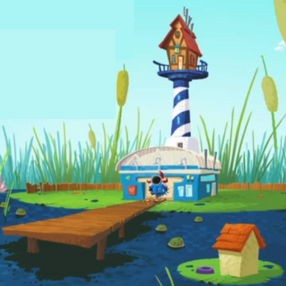 Appearance
From the outside, on the bottom is the hangar where the Rocket Van is stored along with some of their bread. The main part of their house is located on a tall lighthouse with an elevator that runs from the house through the garage to the Bread Mines. The main house includes a kitchen, front room, living room, and bedroom, and also a bathroom.  There is also a small porch on the front. There is also an arcade in the entrance room.
Residents
Ad blocker interference detected!
Wikia is a free-to-use site that makes money from advertising. We have a modified experience for viewers using ad blockers

Wikia is not accessible if you've made further modifications. Remove the custom ad blocker rule(s) and the page will load as expected.