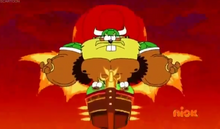 The viking lullaby is sung by Oonski the Great in Oonski the Grateful.
Lyrics
Oonski: Go to Sleep! Go to Sleep! Close your eyes and count some sheep! (Whacks sheep by twos with his mace)
SwaySway and Buhdeuce: (Groaning)
Oonski: Fluff your pillow! Rest your head
Buhdeuce: (Groaning as Oonski punches him in the face twice)
Oonski: Tuck you in! Dream of Bread!
SwaySway: (Groaning while Oonski does the same thing he did to Buhdeuce)
Oonski: Come on Duckies, no more fun! Sleepy time has just begun! Breathe in, breathe out! Start to snore as I shout, GOOOOOOOOOOOOOO TO SLEEP!
Ad blocker interference detected!
Wikia is a free-to-use site that makes money from advertising. We have a modified experience for viewers using ad blockers

Wikia is not accessible if you've made further modifications. Remove the custom ad blocker rule(s) and the page will load as expected.